Crazy About Candles Part 1 Votives
So I thought for this post I would take a break from flowers to talk about my second favorite event decor.... CANDLES!!!! Candlelight has this amazing way of giving a feeling to your event and creating a romantic glow around the room. But what type of candlelight are you looking for? Believe it or not, there is actually a lot to choose from! In this first post of Crazy About Candles!
Basic Votives
So first off there are your basic glass votives, these are a cylinder shape (typically) and most venues will provide you with 3- 5 of these per table for your reception (we also provide them for $1/ candle, they are are most cost effective option.) They do their job- they give a nice glow effect, I especially like using them with a lower centerpiece.
Different Shapes
Here are the "upgraded" versions of the basic glass votive (basically just a bubble and square shape) they are great if you are looking for a specific look (square vases or bubble bowl vases) and want to use them to emphasize that structure (we retail these for $2/ votive.)
Mercury Glass
A popular candle for the past few years has been mercury glass, and it is easy to see why. It has a beautiful mirrored quality that catches and reflects the light around the room and gives a vintage romance vibe to any event. They come in gold and silver int he basic cylinders, but are available in a wide range of metallic colors once you get into the different shapes. (We retail the basic cylinder mercury glass votives in gold and silver for $3/)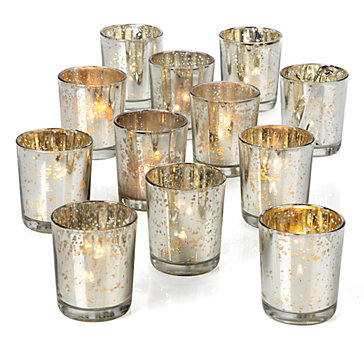 Colorful Glass
A great way to pull in more focused color on your table would be to incorporate colorful glass. It works for pulling colors that may not occur naturally (i.e. turquoise, navy, certain shades of purple etc) or emphasizing a current color palate (i.e. blush, pinks, or reds.) (We retain plain colorful votives for $3+ depending on the size)
Mixed Votives
Another popular votive option that I have been seeing more and more of is taking the votive to a new shape and design all together. Mixing different shapes and varieties as well as colors and textures. I love incorporating the different candle shapes and styles to create a custom look for an event. (We retail these candles anywhere from $4 and up)
Thanks for reading! Will post the second installment of Crazy about Candles soon!!!!!!